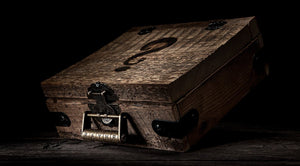 You want leather scrap? I gots scraps. These are flat rate boxes absolutely STUFFED to the brim with as much leather pieces as I can get in there. I MAKE NO GUARANTEES ABOUT THE SIZE, COLOR, OR TYPE OF LEATHER. There are three rules to the scrap boxes;
1. Boxes will only be shipped. NO LOCAL PICKUP, NO HOLDS, NO "HOLDING  IT TILL I SEE YOU NEXT TIME". Domestic US only.
2. I don't guarantee any particular type, color, size or thickness of leather. Its a variety of whatever I've been working with most recently. No, I will not go through the box to give you specific colors, cuts, etc. BOX SHIPS AS IS.
3. First come first serve. If you want it, purchase this listing which is the cost of the shipping. I will not hold boxes.