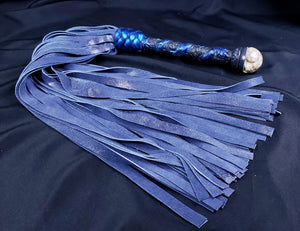 This Sea Dragon Flogger is made with grey blue tails with a light silver dusting. There is a real seashell embedded in the top of the flogger. It is a light flogger great for warm ups and light intensity play.
The handle of this piece is heavily textured and if you have sensitive hands you may find it uncomfortable. If you find that you're flogger handles go flying out of your grip then this one might be useful for you. 
The handle is 10 inches long the tails are 22 inches long.